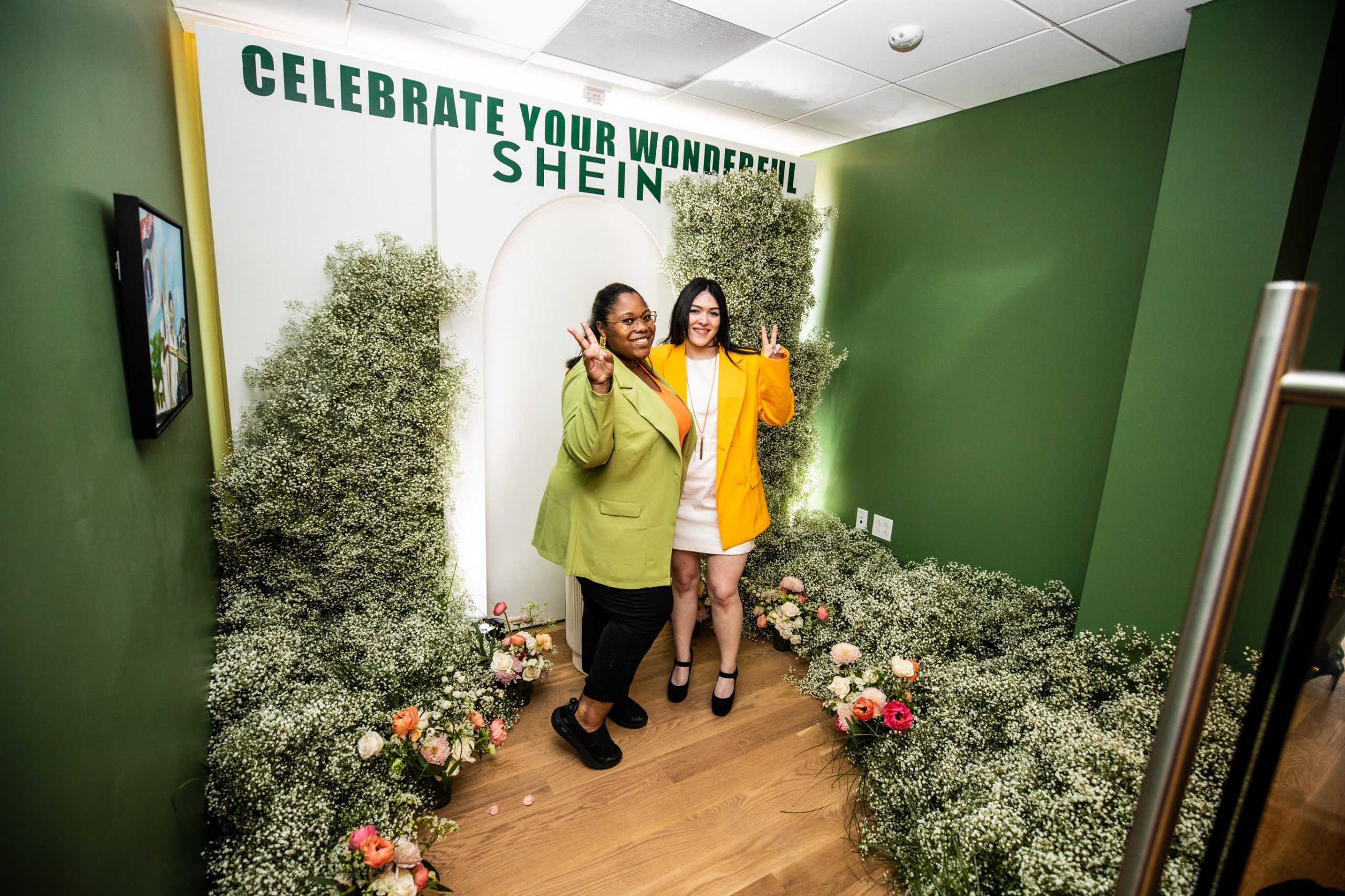 © 2022 Vital Voices Global Partnership. All rights reserved.
About the Program
---
We created the SHEIN X Incubator Program to empower emerging designers to build their own successful brands.
SHEIN X allows designers to focus on being creative while SHEIN takes care of the business side—production, marketing and selling.
SHEIN X designers benefit from our massive global community, enabling products to reach millions of fashion lovers worldwide. Best of all, designers profit from the sales of their creations while maintaining ownership of their designs.
Since launching in early 2021, SHEIN X has partnered with almost 2,500 designers and artists from over 20 countries.
SHEIN X Rock the Runway
---
At SHEIN, we don't just walk the runway, we rock it! Every year, SHEIN gathers the biggest names in the music industry, from Saweetie and the Chainsmokers to Avril Lavigne and Haley Reinhart, for an all-out fashion extravaganza, as we present our latest collaborations with world-renown designers, like Christian Siriano, as well as collections from our SHEIN X Designers. 
SHEIN X 100K Challenge
---
SHEIN held its first ever SHEIN X 100K Challenge in August 2021. Led by an all-star cast of judges including Christian Siriano, Jenna Lyons, Laurel Pantin, Law Roach, and Khloé Kardashian, the debut design competition saw hundreds of design entries from all over the globe from the SHEIN X Incubator Program.
A total of 30 new, talented designers were selected to be a part of the four-part reality-TV style competition to share their designs based on the theme, "Be Bold, Be You!". The series was streamed on the SHEIN mobile app and social media platforms
The Grand Prize Winner, Sasha Ruddock took home the cash prize of $100,000 and was featured in our Fall/Winter Fashion Showcase!
Meet the Designers
---
---
Celeste Tran | @celestetrxn
Fashion design student, constantly and fervently looking to make my own opportunities in life. Ideation versus reality is the motto I live by. We can imagine creating the most wonderous, beautiful, and meaningful art but we are often limited by our own reality. What is realistic and where does ideation and reality meet? My goal has always been to expand my reality and my imagination so that if the idea of my imagination is so wild and so big, my reality can make it happen-as opposed to the idea staying in my imagination. When I talk about reality in relation to creation, I'm not only speaking of personal skill, but also of resources, time, and perhaps sufficient determination.
My philosophy with this concept in mind is that I design with the intent to aspire to be better, to be more. Perhaps as my skills grow, my ideas and ambitions might grow as well and if my desire to create something beyond my skill is great, I might change my reality to meet that desire. Just as how over time, our personal desires and ambitions change, as does my personal design aesthetic. However, there are some elements that have always stayed true to me, things that I have incorporated into designs more often than not. The designs I like to create, perhaps my favorites-I describe them as very romantic-I like the idea of really girly pieces, beading, tulle, etc. In the same respect, I am also drawn to bold graphics and vibrant colors. But I dabble in new things and new styles because I know that I will grow as a result.
---
---
Kendu-Marquette Williams | @knduivplay
Kendu-Marquette Williams creates unisex clothing for everyone. Fashion has taken him to places he never would have imagined. The designer went from sleeping in cars and hotels to NY Fashion Week, winning awards, and now speaking to students about his journey. It's been his lifelong dream to inspire youth and encourage others to live out their dreams. He credit SHEIN X in helping him build his confidence and inspiring him to take more chances. His mantra: Be yourself. Hype yourself up. Love yourself.
Hello, my name is Kendu-Marquette Williams I create artistic streetwear for FREE PEOPLE. My brand is titled "ART IV PLAY" (pronounced art four play), which launched in 2017 shortly after the passing of my younger sibling. I started my journey based off turning my pain into power which lead to a great amount of success, My brand's motto is: "EVERYTHING YOU NEED IS WITHIN YOU" which means to simply believe in yourself and you'll find everything you've ever needed. In February 2020, ART IV PLAY was featured in NYFW, got recognized and found a home in Soho London, England. Shortly after we had been seen and worn by music artists such as Lil Nas X, DJ Broadway (Lil Nas X's tour DJ, Rapper M.E. And more..In December 2021 I will be featured in Austin Fashion Week as well. I'm more than excited to have worked on a great collection with my artistic business partner / friend Zach Parmer to help bring this collection to life. I hope you all enjoy it and continue to support ART IV PLAY!
---
---
Kovid Kapoor | @kovid.kpr
Kovid Kapoor is an Indian fashion designer based in Brooklyn, New York. Kapoor holds an MFA in Fashion Design and designs with an aesthetic inspired by luxury fashion. In 2013, he won the National Textile Corporation's Young Designer Hunt (India) and has since appeared as a contestant on the 17th season of Project Runway and again as a finalist on Project Runway Redemption Series. Kapoor's work has been featured by CFDA Connects, Runway 360, Philly Fashion Week, Elle USA, Elle India, and Vogue Italia. Kapoor draws inspiration from various childhood tales, world mythologies, and fantasies that celebrate the feminine wisdom.